By Shaan Khan (31/08/21)
The thinking person's game. An uncontested series in the cricket management simulation scene for over a decade. With a lack of competition presented to publisher/developer Childish Things Ltd, will complacency be the straw that breaks the camel's back of their new release in the series' Cricket Captain 2021?
Cricket Science, not Action
Managing in a squad-based sport is a loaded responsibility comparable to juggling a dozen of items or more. Really, it's more akin to strategising the most efficient business model made up of production lines and supply chains to meet with high demands and be on top of the competition.
There's a lot that cricket managers must keep in mind to achieve a successful team; the game gives you access to all the tools that cricket managers use and here is a brief list to provide you with an overview of what you can do in the game that's relevant to your role:
You must 'be in the know' with the world of cricket. The game will give you the news and stat pages on all the recent and upcoming cricket games, seasons, tournaments and players. Searching through is like studying, figuring out what made a team successful and how you can learn from that.
The game allows you to purchase players from other teams and coach them. You must factor in the age, experience and potential of players. Would their skillsets fit into your team dynamic? How many coaching sessions would you need to schedule to improve players and will they be ready in time for upcoming tournaments?
Once the roster has been populated, it's time to use each players strengths to their advantage and within a team system. The strategies can be trialled in test matches, experimenting with different methods and formations of play.
In matches, you're a decision-maker. Watching how your strategy plays-out live and ready to make the quick calls on how you want a player to bat against certain bowlers or where fielders should be placed in response to an aggressive batsman.
Teams are constantly evolving with new players and strategies and you must adapt. Also, your players must undergo physio to repair which takes time. So, changes must be made whilst keeping in mind the budget restrictions.
A new key feature included for this year's game is the ability to manage multiple teams at once to really put your multi-tasking skills to the test.
A Matter of Stagnation or Innovation?
Once again, with this new entry into the series, it keeps the same base formula that earned itself popularity. For some, that's welcomed, especially feasting their eyes on the near-unchanged UI. The only noticeable change being the infamous logo helmet has turned yellow, possibly the devs attempt at comic relief to say they are self-aware that the latest games in the series all look identical—but only on the surface.
What has been worked on is incremental tweaks and updates that build upon the experience. Developers have worked on the match engine to make gameplay less formulaic and more accurate to real cricket. A way of achieving such depth was to hand users more control over batting and bowling techniques to create more varied outcomes in a match.
Content has increased by including more tournaments to participate in. Also, there is a whopping 7,000 cricket players and 150 playable teams to choose from! There is a clear focus in development to reduce limitations on players from getting the full, unadulterated experience of being a cricket manager.
Another tool at your disposal is a complete database update that showcases the stats of the fastest 50s and 100s for team, ground and versus records. The benefit is to offer greater trackability and with the added feature of visual charts—analysing data is made clearer.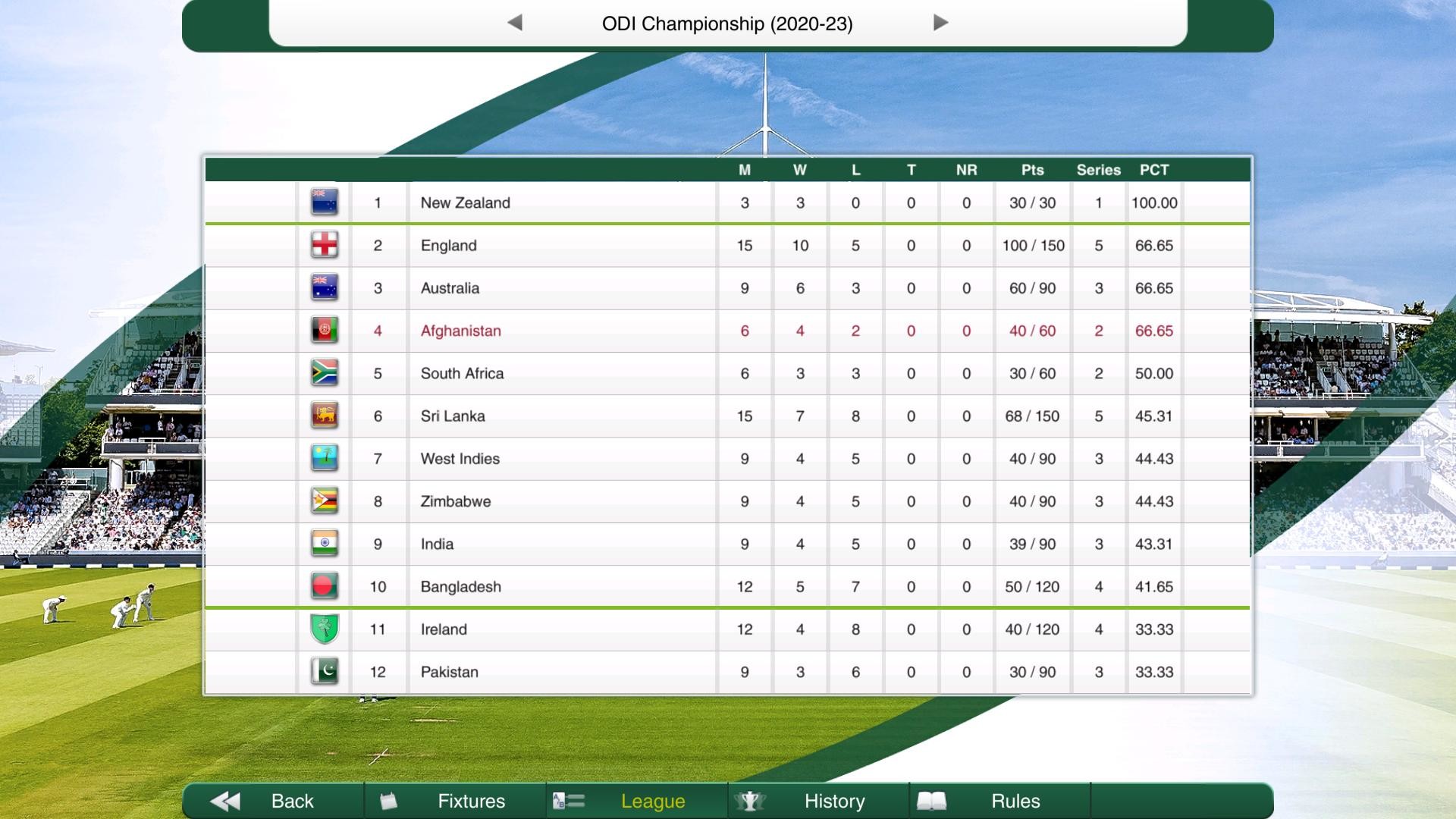 These were the key developments made, many spawned from ideas and criticism mentioned on forums and the series' Facebook page that developers would read and respond to.
While a sizeable core community are pleased with Cricket Captain 2021, many others are comparing it to EA sports licenced games such as FIFA or Madden that are touted as cash-grabs with lazy game development thanks to a lack of competition in the market.
Launching the Cricket Captain 2021 application, you can't but help notice how outdated it all feels that can scare off new players from trying a cricket management simulator for the first time.
Reducing the bulk of text everywhere with some visual stimuli is a step in the right direction. Next is to work on real-time match simulation that feels so clunky and rushed right now. At least hand user's camera and editing tools to have more control over watching matches take place.
An improvement that would really open the door to a larger audience of cricket fans is to have them be part of the action, not rely on picking text-based options to bowl or bat, but use mechanics borrowed from sports action games instead. Some players might not want to be involved in the action, so giving them the choice of traditional, non-action gameplay should be available too.
Conclusion
Despite what others and I might want from the game, it's fair to keep in mind that this isn't a triple-A game with the biggest publishers like EA or Ubisoft backing them.
The Cricket Captain series has built up a cult following that will defend the mostly unchanged state of the games because why change what works?
If you feel like you've got a cricket manual in the back of your head and want to get creative with the science of the sport with your own strategies, then this game is a sandbox of tools, depth and data built first and foremost for aspiring cricket managers who want to see if they've got what it takes to bring a domestic club or nation to victory!
Rating
Sadly, the game doesn't hit for any 4's or 6s. Instead, an average review score:
5/10
Pros
Rich in features & content for long-term playability
Varied choice of players & teams
Accurate simulation
Runs on low-powered systems (PC & Mac), including mobile phones (IOS & Android)
Community-driven development
Cons
Outdated UI & graphics
Lacklustre real-time match cam
No action controls